Our Chairman of the board is passionate about the well being of all DCM family members
Benefit from safe industrial construction services.
At DCM, we value our employees above all else. Every aspect of the way we plan, articulate and execute our day-to day activities reflects our devotion to protecting our team members. As such, we have developed a Health and Safety management approach that is believed to be industry-leading:
We are proactive: the Health, Safety and Environmental Program's primary objective is to mitigate the risks by eliminating at the very source dangers regarding health and safety on our job sites. We have developed a detailed and comprehensive HSE reporting system to capture all leading and lagging indicators to benchmark our performance and guide us towards continuous improvements.
We constantly improve: our HSE Program is continuously evaluated and improved in order to maintain optimized and efficient policies and procedures. Those policies and procedures are monitored, communicated through information sessions, toolbox meetings, formal and informal training, etc., and audited on a regular basis. We make sure that all our workers on construction sites have all the required training and skills to safely and efficiently carry out their tasks. An illustration of our commitment is our Annual Best Practices symposium to ensure our workers are equipped with the best knowledge and training to excel in safety.
We are all responsible: DCM makes health and safety our core value; the owners, the management, the site supervisors, the safety team and all of our employees take personal responsibility for the application of the HSE Program. The Health and safety accountability applies to all levels of the organization.
We are process-oriented: our health and safety management systems are certified to ISO 9001 and COR certified in 5 provinces in Canada. For each new project, we are putting in place precise prevention and control methods to ensure that the execution of each task is planned and is completed in a safe environment. The prevention and control methods & tools part of our HSE program include:

Codes of practice
Safe work practices
Project-specific risk analysis
Project Hazard and Risk Analysis tool (JHA and FLHA)
Workforce-driven Behavior Based Safety program
Emergency Response Plan
Field Competency Verification and Training
We care about the environment
We apply rigorous environmental management practices and respect all environmental regulations. For each project we undertake, we establish clear measures to identify risks and mitigate them. Our teams are trained to promptly address any environmental incident and minimize potential impact. To achieve these objectives, we rely on the commitment of all of our supervisors and on the accountability of each employee. We strongly believe in doing business in a manner that promotes environmental interest at all times.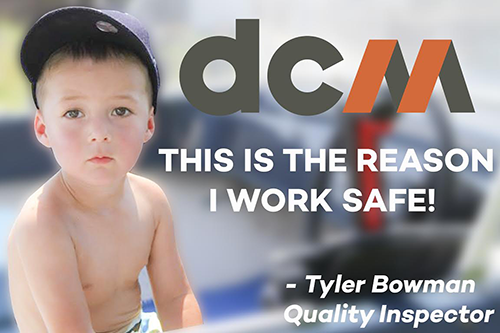 RECORDABLE INJURY FREQUENCY
25%
VERSUS LAST YEAR